Maple Syrup Sales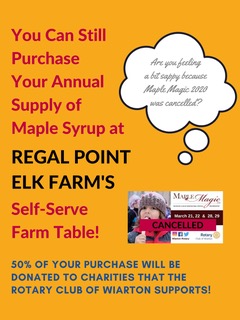 Maple Magic is such a special event. Yes, the event needed to be cancelled for this year BUT
YOU can support our efforts by buying your Maple Syrup supply from Regal Point Elk Farm where you will find a self- serve table. Eric and Dale Robinson have indicated that 50% of all Regal Point maple syrup sales will go directly to charities that Wiarton Rotary supports in our area, including the Hospital Foundation and the Bruce Peninsula Community Food Bank. 
Head to Regal Point Elk Farm in Oxenden to purchase your normal Maple Magic syrup supply and know that you will make a difference in our community. The farm is located at 462081 Conc 24,
Georgian Bluffs, ON N0H 2T0
Check the prices below before you go to the farm
PLEASE try to bring correct change.
SORRY, but there are no tours of the farm and you will not be allowed to visit the sugar shack.
Offer expires April 15, 2020.