Monday, October 11, 2021
Shore to Shore Road Race...a 68 year tradition.
This race was originally named the Bluewater Marathon and it started from Cape Croker in 1947. The start was then moved to Oliphant and finished in Wiarton in 1953. The race begins at 8am in Oliphant and the 13km route is a classic course with rolling hills and a fast downhill finish. Although traditionally held on the August long weekend for 2021 it will be on Thanksgiving Weekend.
The first 25 people to register for the race, by September 1, will get FREE a t-shirt commemorating the race.
In the RUNNING Division, there are prizes for the top male/female in each age category 19 and under, 20-29, 30-39, 40-49, 50-59, 60-69, 70+
In the WALKING Division, there are prizes for the top TWO males and the top TWO females.
There is a cap of 25 entrants in the walking division and a 2 hour, 45 minute time limit.
COVID UPDATE:
We are so thankful to have received permission from our local community to have this event. In an effort to keep everyone in our community safe the following protocols will be in place.
ALL Volunteers will be masked.
Participants will have staggered starts in groups of 25. You will be pre-assigned to your group based upon anticipated completion time with the fastest runners first.
ALL Participants must be masked at the marshalling area and start line. Remove your mask as the race starts and carry it with you.
At water stations, the water will be on the table for participants to take themselves. It will not be handed to you. Participants may wish to carry their own water.
At the finish line you will be asked to move through quickly and not to gather in large groups. Unfortunately, you cannot remain to cheer on the rest of the field.
course:
Runners AND Timed Walkers (13k) start at the Oliphant Beach corner (Lake Huron), and travel along a paved County road, past inland lakes (Spry Lake & Boat Lake), farmland and quarries, through the streets of Wiarton, finishing downhill of the Niagara Escarpment at the Wiarton Arena (Georgian / Colpoy's Bay).
Traditional Walkers start at approximately the 7.5k mark. This is an untimed, unofficial walk.


» registration:
• online: August 11 - October 7, 2021 (online registrations ends at 5pm on October 9, 2021)
NO IN PERSON REGISTRATION, NO REGISTRATION AFTER OCTOBER 9
• (bib pick-up available at these locations)
   • Thursday, October 7 - 4:00 - 7:00pm - Drive By - Parking Lot by Skateboard Park, Bluewater Park
   • Saturday, October 9 - 9:00 - 11:00am - Drive By - Parking Lot by Skateboard Park, Bluewater Park
   • Monday, October 11 -  6:30am - 7:15am - Drive By - Parking Lot by Skateboard Park, Bluewater Park

» fee:

$50.00


» race details:
• start time, 8:00am, Oliphant Beach Corner (County Rd. 13 & Shoreline Rd.) 1 Shoreline Road
• free transportation (school bus) from the arena to the start line...Seats are LIMITED!!
• washroom facilities available at Bluewater Park and at the start line
• water stations at approximately 4k, 9k, and 11k
• first aid on-site
Race Map
Follow the Oliphant Road to Ebel Quarries and turn right onto the Old Oliphant Road. Then right on John and left on George to the end!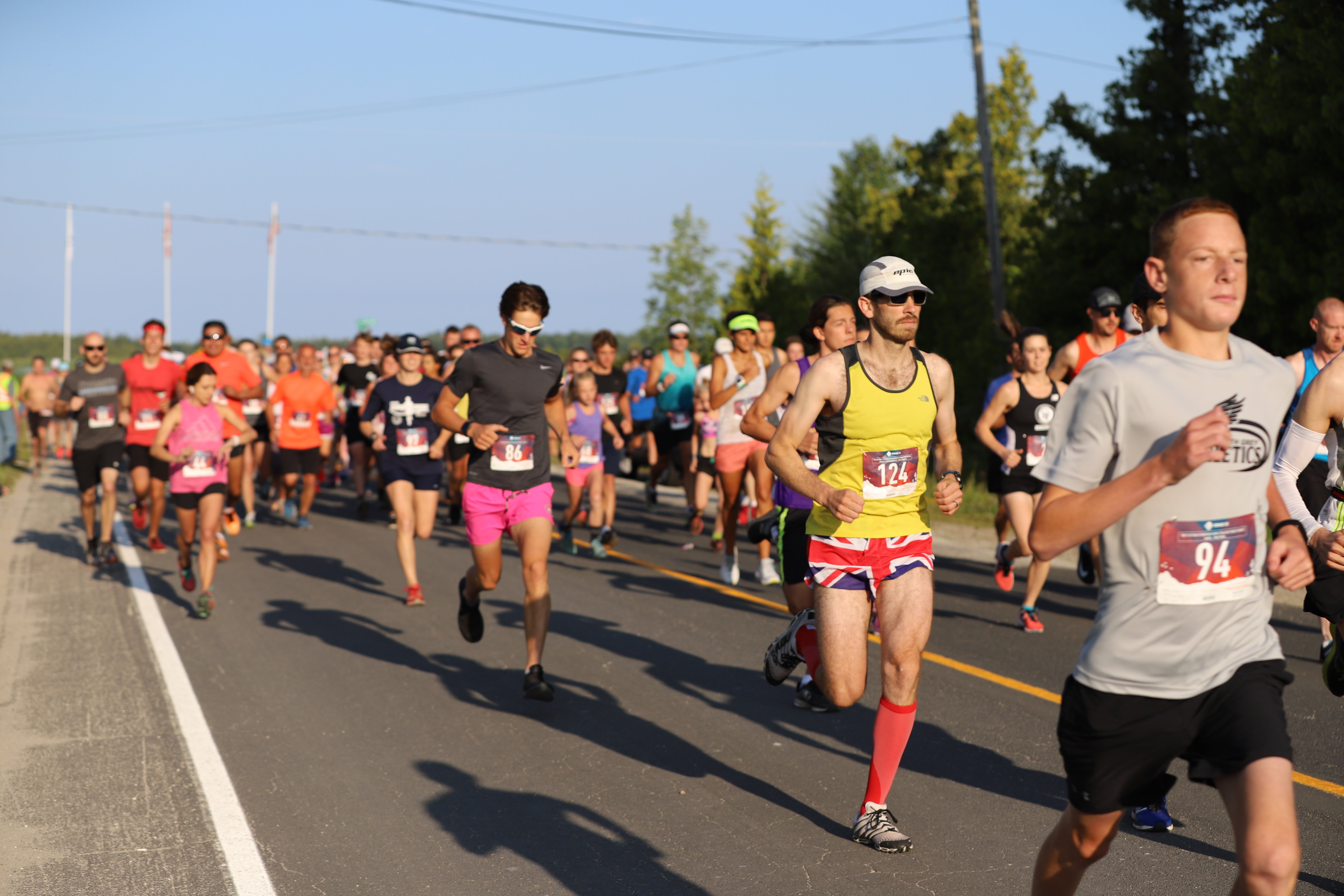 Registration now open
Click HERE to register
Click HERE for 2019 Race Results