Please Note:  Masks are required indoors and for all public transportation - van, ATV and/or wagon.
ONLY Service dogs PLEASE. Even well behaved dogs on a leash scare the elk!!
Payment Options: Debit/Credit accepted at the General Store (outdoor food), for Maple Syrup and for the Mini X Challenge. CASH ONLY in the DINING HALL (indoor meals).
Welcome to Maple Magic, located at Regal Point Elk Farm, 462081 Concession 24, Georgian Bluffs, Grey County, near Wiarton Ontario.  From the time you park your car until the time you leave you are in for a wonderful Canadian Maple experience!  The Rotary Club of Wiarton is once again happy to host Ontario's most unique Maple festival.
From the parking lot you will make your way to the wagons and ride back to the Sugar Shack.  Check out Regal Point's farm sign, winner of the Most Unique Sign in Canada, 2013.  See if you can find the hidden pictures within the sign.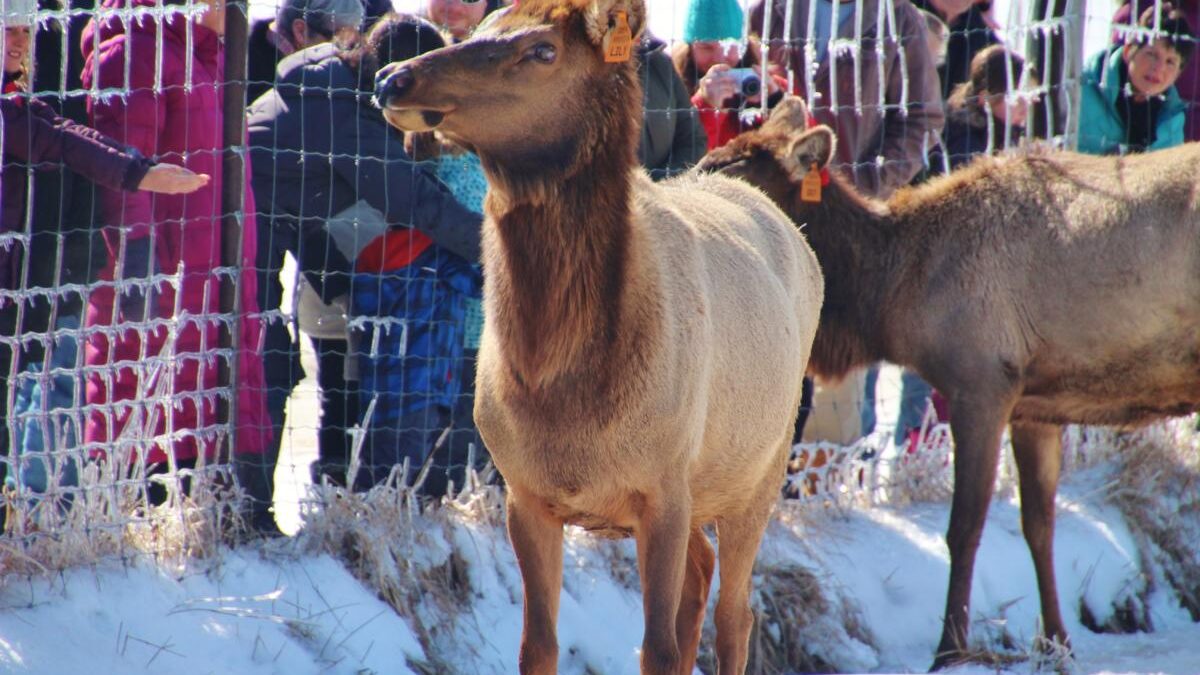 As you ride the wagon to the sugar shack, you'll pass several elk fields while enjoying the view of over 100 magnificent elk. Please Note:  Masks are required for all public transportation - van, ATV and/or wagon.
Once you arrive at the sugar shack you will be greeted by Rotarian 'Magic Mike'.  Magic Mike has been Maple Magic's greeter now for the past eight years.  Please note that Rotary's Maple Magic event admission is by donation.  Please be generous as Wiarton Rotary puts all profits back into our community.
The list is long and the choices many as to what to do next?  Come and enjoy a traditional pancake meal, or the ever-so-popular Peaches and Cream pancakes.  Maple syrup doesn't get any fresher or more local as it is made just steps away from the wood stove heated dining hall.  While in the dining hall, be sure to get your picture with SilverStar's award winning antler, winner of North America's elk antler competition the past three years running.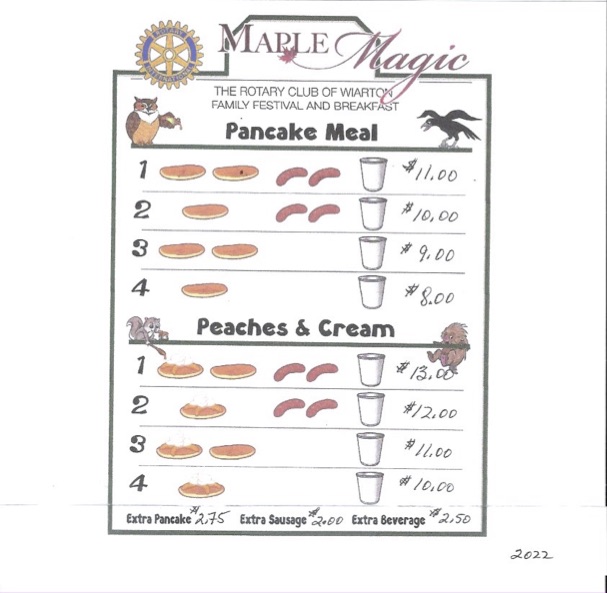 2022 we are changing things up a little.  Full pancake meals will be served from both the indoor Dining Hall and outdoors from the General Store.  Meals served from the General Store can by enjoyed at our covered outdoor picnic tables. Please Note:  In the dining hall, masks must be worn at all times except when seated and eating or drinking.  The only exception is children under the age of 4. Occupancy in the dining hall is limited to 50 guests.
Payment Options: Debit/Credit accepted at the General Store (outdoor food). CASH ONLY in the DINING HALL (indoor meals).
MOUNT HAYMORE
Mount Haymore is definitely the kids favourite!  Mount Haymore is a 3-layer high, giant playground complete with climbing and sliding fun for all.  Be sure to get your I Climbed Mount Haymore sticker.  Then its time to move over to BushPlay, a most unique play experience right in the bush.  The merry-go-round is a highlight.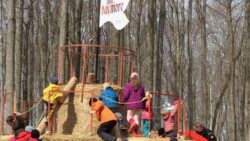 WILLIE WALK
The next experience is the Willie Walk.  Find the 10 hidden action figures of Wiarton's famous groundhog, Wiarton Willie hidden along a trail through the bush.  Pick up a Willie Walk scoresheet before you start and mark them off as you find them.  It isn't easy but our Ranger Station guides will be happy to help you out.
There are 2 other trails that you might enjoy as well:
BLACK HOLE TRAIL: this is a 5-minute walk into the bush to see an ancient geological glacial formation that could be described as a vertical cave or sink hole.  You will see signs on the trees where the resident porcupine has been eating,
1 Km LOOP TRAIL: this will certainly burn off a few calories.  The trail takes you through the Maple bush and brings you back to the General Store.
PETTING ZOO & PONY RIDES
Once again, we have Glendale Farms joining us; and for a small price your kids can enjoy some animal fun.
MAPLE EQUIPMENT TOUR:
Join equipment tour guides Mike or Dave to get the tour of our 3,000-tap maple operation. You will see the latest technology in maple production which includes Ontario's first and only electric evaporator.  Regal Point is Ontario's only carbon-free producer of Maple Syrup
NEW for 2022....MINI X CHALLENGE:
Test your skill! The goal is to pick up 3 mini-logs and move them to targets on the other side of the excavator.  Tracks have been deactivated so that you simply operate the joysticks.  It is surprising how good kids can be with this task. Years of video game experience pays off.  Minimum age, 8 years.
cost: $5.00 for 5 minutes
10:00 A.M. - ELK TOUR
Join Eric and take a walk to an elk field. Listen to a brief talk about elk farming and get up close to a few of the elk cows.  Lily, our 19-year-old cow waits for you. She is our "Walmart greeter"
11:00 A.M. – LAND OF GIANTS TOUR
From our local community, we have gathered together close to 4-million-dollars worth of monster equipment.  See and touch some very impressive machines.   Great pictures!
12:00 noon – LOG SAWING COMPETITION
A visitor favourite!  You can be the entertainment!  Teams of 2 will compete to see who has the fastest times.  This is a team event that requires speed and coordination.  Great fun to watch, even more fun to try.  No charge to enter and the winning team takes home Regal Point Maple Syrup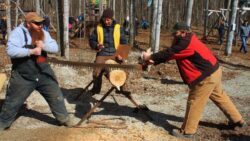 Once you are completely worn out and ready to leave, remember to pick up your supply of Maple Syrup at the sales table.   Then board the wagons, head for the parking lot and memories of your fun time at Maple Magic 2022! Please Note:  Masks are required for all public transportation - van, ATV and/or wagon.